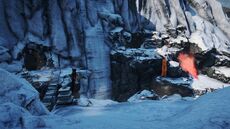 Canyon of Awakening is a location within Far Cry 4's Valley of the Yetis addon. It is the first location Ajay comes across following his helicopter crash in the Himalayas.
This is one of the places where the Relic leaves its Elixir (Yellow liquid is circulating there) and this is where Sandesh and his soldiers saw a Yeti by themselves for the first time. Sandesh's soldiers bathed in the yellow waters in a cave of the canyon and it made them hear voices and see maddening visions. Ajay goes there after his helicopter crashes and is trying to rescue his pilot, Sukhwinder. The place is full of Loot Chests with animal skins and other collectibles found in chests in the main game.
Community content is available under
CC-BY-SA
unless otherwise noted.