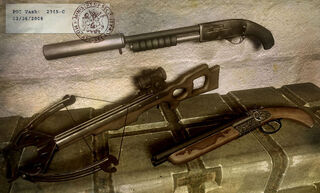 The "
Fortunes Pack" DLC
adds three exclusive weapons, two vehicles and four additional Multiplayer Maps to
Far Cry 2
.
Weapons
Silenced Shotgun — Silent and deadly at short range, good for stealth missions.
Craftsman Shotgun — Devastating fire power at short range, good side-arm to back you up.
Crossbow — Explosive bolts fired with a silent and accurate shot.
Vehicles
ATV — All Terrain Vehicle, gets you across difficult terrain quickly with high maneuverability.
Utility Truck — A big, fast and maneuverable truck equipped with a .50cal Browning, it's best for heavy vehicular fights.
Multiplayer Maps
Cheap Labour
Last Resort
Lake Smear
Fort Fury
Gallery