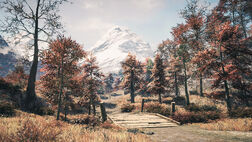 Northern Kyrat is the sparsely vegetated, cold northern region of Kyrat in Far Cry 4. During the 1980s, members of the Golden Path were expelled from the region by Pagan Min and his Royal Guard,[1] leading to them having no influence in the region for decades. Starved of resources by Pagan Min's constant abuse of the locals, the north is in stark contrast to the south, where a rebel movement has been active for years.
Description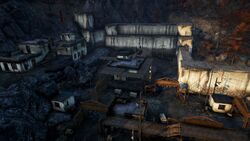 The landscape in Northern Kyrat is split between three different types of biomes.[2] The northwest, controlled by Pagan Min's commander Yuma Lau is slightly lusher, with large coniferous forests near the town of Utkarsh and sparser larch forests beside Ratu Gadhi. This area is filled with ore for mining, the once-active KEO (Kyrat Earth and Ore) bringing revenue to Kyrat before the civil war. East of these areas is Pagan Min's territory, with the scant and cold Himalayan sedge meadow mountains. Populated by boreal grasses and covered in reddish trees, this part of Kyrat is noticeably bleaker and chillier, even home to some snow-capped mountains. North Kyrat is home to traditional Kyrati architecture, being home to Jalendu Temple, the most sacred site in Kyrat. It was the former home of the Kyrati monarchy.
Major Locations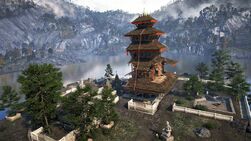 Wildlife
References
Community content is available under
CC-BY-SA
unless otherwise noted.