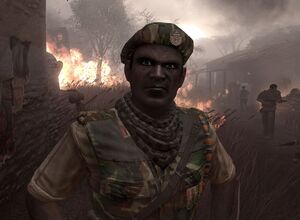 Oliver Tambossa is the leader of the APR, Chief of Staff of the former government and character in Far Cry 2.
Description
He collected the remnants of the collapsed government's army to stand against the UFLL. The resistance is run from the offices of The Standard newspaper at Mosate Selao in the Southern District. Though technically a rebel, he still wears his major's military uniform from the previous government.
Trivia
According to the mission, Jack in a Box, Tambossa had a brother, but he was assassinated by an unknown gunman.
Gallery