The Privateer Defender is a type of Privateer in Far Cry 3. Unlike the two Pirate defender classes, the Privateer Defender is a cautious fighter and is often found guarding outposts as well as being personal guards in some Wanted Dead missions.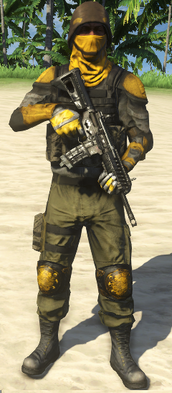 Tips and Trivia
As the name implies, they are better at defending than assaulting.
Privateer Defenders wear strong body armor and can survive several bullet hits before falling. Strong weapons such as assault rifles or shotguns are preferable against them.
They can come in groups of two or more, depending on how the outpost is laid out.
Privateer Defenders can sometimes be found as gunners on Scavengers and Technicals. It is best to keep them off the gunner seat, though, since their heightened defence along with a mounted gun can be bothersome.
Despite their heavy armour, a single headshot from any weapon will kill them instantly.
A single arrow from a bow will kill them immediately as well.
Unlike their Pirate counterparts, they always fire their weapons from the shoulder, making their accuracy far better.
An elite variant exists, but is found only in wanted dead missions.
Gallery
Other skin variants of Privateer Defenders.