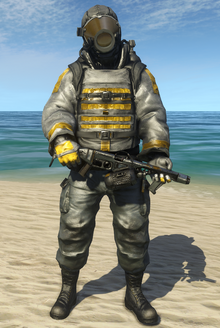 The Privateer Heavy Flamer is a type of Privateer specialized in pyrotechnics. He wields a Flamethrower made to clear out anybody who is in cover. Heavy Flamers wear strong body armour and a gas mask, and can be difficult to kill.
Tips
Heavy Flamers are only about half as durable as Privateer Heavy Gunners; they can withstand about 40 to 50 assault rifle rounds to the torso before falling.
Rakyat are completely helpless when confronted by a Heavy Flamer and it takes more than one predator to take them down as the flamethrower can kill everything in close-quarters in mere seconds.
The Flamethrower can force the player out of cover easily.
If the player damages the gas tank enough it will cause him to kneel down for a short period of time before getting back up to fight.
Sniper Rifles such as the Z93 are a good way to kill Heavy Flamers from a distance.
Shooting the gas tank on the back of the Heavy Flamer will cause the gas tank to leak, draining the health of the Heavy Flamer. If it is shot a number of times, it will explode, killing him.
Sustained automatic weapons fire will force a flamer to their knees, making it very easy to target their gas tanks.
If undetected, the Heavy Flamer can be killed with a Heavy Beatdown. A normal Takedown cannot be performed on them.
Despite their weapon of choice and heavy armour, fire will kill them easily. A direct hit from a Molotov Cocktail or fire arrow will kill them or drain a large amount of their health.
A direct headshot from the Z93 will easily be able to kill them.
Using a SPAS-12 on them is an ideal, quick way to kill a Flamer or Heavy Gunner.
Trivia
 An elite variant is used in some wanted dead missions, but only differs by uniform color.
Like the Privateer Heavy gunner, they seem to be over confident in themselves and act superior to other privateers.
Despite the fuel for the flamethrower being loaded into the weapon like a magazine, a gas tank is still visible on their back.
A Pirate variant exists, but in CO-OP only.
Heavy Flamers can be instantly killed by an animal that can lunge, such as a tiger or bear.
Quotes
Like Privateer Heavy Gunners, these talk with a Helmet sound effect and have almost the same quotes as Privateer Heavy Gunners.
"Sweating Like a Pig"
"Time to roast that pig!"
" I'm gonna cook you alive!
"HAHA Burn for me!"
" You can't hurt me!
"Time to fry that bitch"
"Get to cover and stay outta my way!"
"If you stop I'll let you use my gun"
"That tickles"
"Gotcha!" -When noticing the player
"I raped your mother!"
"Empty your clip"
"Friendly?" -When distracted by a rock
"Woohoo!" -When noticing the player or a dead Privateer
"Holy crap!" -When noticing the player or a dead Privateer
"At least its nice" -When idle
"Just ask for a raise, it cant be that hard." -When idle
"Keep remain your business Recruit." -Can be heard in cave when just gotten the Recruit uniform.
"AHAHAHAHAAAA!" -When idle
"Why didn't I make that bed, idiot." -When idle
"Man, why do I have to live in a shit hole." -When idle
"She better not be sleeping around" -When idle