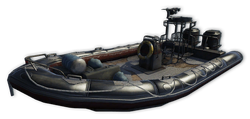 "RHIBs are stable, high-performance, lightweight boats. The ones you'll find here are civilian vessels taken from a defunct amusement park and armed with machineguns. They seat six passengers, or seven if you bring the kids. Ah the memories."
— Survival Guide


The RHIB or Rigid Hull Inflatable Boat is a water vehicle in Far Cry 3.
They are used throughout Rook Island for recreational activities and military operations. It is slower than the Jet Ski. They are used by the Pirates (red colour) and Privateers (yellow colour). Also, when outposts within the area have been liberated, Rakyat Warriors can be seen patrolling the coast with this vehicle. There are variations with or without a mounted gun. It can hold two people; a driver and a gunner.
A RHIB is used in the story quest in which you rescue Jasons friend Oliver Carswell.
Gallery