Expansion required
This article or section is a stub.
You can help the Far Cry Wiki by expanding it.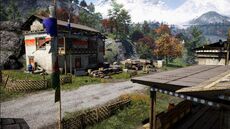 Rochan Brick Co. Shipping is an outpost within southern Kyrat in Far Cry 4. Judging by its name it may have been a shipping warehouse for a brick company before being taken over by the Royal Army for use as a military outpost.
It's name implies that it is, or was, owned by Rochan Brick Co, a brick manufacturing company that is really a front for De Pleur's drug operation. It most likely ships out bricks, heroin and raw opium
The outpost is located in the middle of kyrat and is an easy outpost to take down. Elephants are present.