---- This article or section is a stub. You can help the Far Cry Wiki by expanding it.
---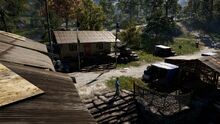 Shanath Breeders is an outpost within southern Kyrat in Far Cry 4 at coordinates (379.3,537.9).
It has the Kyrat Fashion Week quest for Karkadann, the rare rhinoceros, whose skin allows you to craft the top level of Heavy Ammo Bag.